Matakana Market Kitchen shares the love
16/11/2018
2019-03-01 20:03
Matakana Market Kitchen shares the love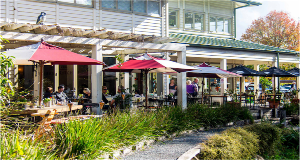 Matakana Market Kitchen shares the love
They've been serving Altura coffee at Matakana Market Kitchen for the past four years and owner Bob Pollitt couldn't be happier. "The blends are so consistent – it's very easy to turn Altura beans into a good cup of coffee without adjusting the grind or fiddling with the machine."
With between seven and sixteen staff on every shift, it's important that the espresso delivered to table after dinner is made to the same high quality as the flat white ordered at brunch, so barista training is vital.
"I've got nothing but good things to say about Altura," says Bob. "In all the time we've worked together there haven't any problems at all. They go to great lengths to make sure that I've got what I need. Margins are good and Altura's training, back up and support is second to none."
Why customers come back
Bob is a chef by trade who did a stint under the eagle eye of Raymond Blanc as a young man, so sourcing high quality, local produce is a top priority. "I try to make it interesting as well as delicious – food should be a little bit fun. We change the menu seasonally, as well as varying the specials every two weeks."
A steady stream of return customers rewards Bob's attention to detail. "People actively seek us out because we serve Altura coffee. We notice that people tend to come in for a coffee first, then we see them again for brunch or lunch and dinner – often all on the same weekend!"
With a steady growth in coffee volumes over the past four years – taking out the Metro award for Best Café in Suburb each of those years – Bob and his team seem to have come up with a winning recipe.
"We're starting to serve a bottomless coffee cup just before Christmas, featuring a different Altura single origin in a filter pot each month. This will take some pressure off the espresso machine during busy periods and help us to continue to offer something just that little bit different."