Altura keeps the coffee flowing
16/11/2018
2019-03-01 20:03
Altura keeps the coffee flowing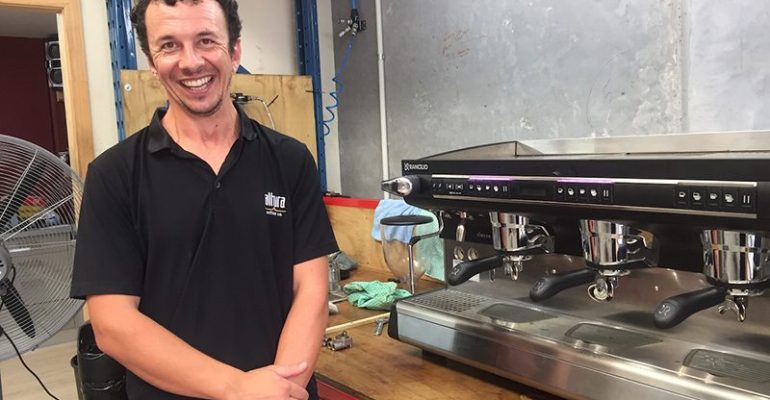 Altura keeps the coffee flowing
It takes a lot more than beans and a machine to create the perfect cup of coffee. At Altura Coffee, they don't believe in leaving anything to chance: from regular servicing of machines to barista training and, of course, supplying fresh, perfectly-roasted coffee beans.
Behind the scenes, there is a hard-working team of espresso technicians responsible for maintaining Altura's fleet of coffee machines in the best possible condition.
Planned service programme
"We don't get too many emergency call outs," said Terry Lepper, Altura's lead espresso technician, "But I guess that must mean we're doing something right because we focus strongly on a planned servicing programme."
Terry and his team-mate Graeme Butterfield, spend the first half of every month making service calls to Altura cafés. They spend between 45mins and 1½ hours with each customer, checking and replacing grinder blades, adjusting steam taps and generally giving every machine a careful overhaul.
"We also do small repairs while we're there. We try to set up early and late calls to avoid the busy morning and lunchtime periods. It's important to avoid any unnecessary disruption to our customers. Some days we step into the first café at 6am and leave last one after 7pm."
When not travelling around the country servicing machines, Terry and Graeme spend most of their time in the workshop reconditioning and rebuilding commercial machines and grinders as well as offering a repair service for domestic coffee machines.
Regular servicing
"When you're working on machines that are worth $12,000 to $15,000, you want to make sure you get the best coffee out of them over their full lifespan. These machines can function perfectly for seven to ten years if they are regularly serviced and maintained," commented Terry.
"Coffee machines are just like cars, they need servicing to keep them running at peak performance. Barista skills are very important, but you can't serve the best coffee without a quality machine."
Altura Coffee owns most of the machines that the team services. Part of the wraparound customer care package offered by Altura is barista training on cleaning and machine upkeep. Every café is left with a recommended cleaning routine based on their machine and the number of kilos of coffee beans they use per week.
"If a machine is getting through 15 to 20 kilos a week, it'll need servicing every six months, for higher volumes (30+ kilos) a visit from us every three to four months is best," explained Terry.
Terry aims to leave every machine capable of lasting another 12 months in good condition – even though he is always back for another service visit in half that time
Training and service
Terry and Graeme don't just deal with machines when they visit cafés: "We often drop in product, talk to the baristas to find out if they need any training on how to get the best out of their machine or grinder, and then we can recommend next steps. We'll do anything we can to ensure that our cafés are equipped to serve the perfect coffee — that's what we're here for."
It's vital to keep a cool head if you want to be an espresso technician. Problem-solving and thinking logically are a key part of the job. Working on hot machines with customers waiting can be a risky business – and that's not just the chance of being burnt that the team has to contend with.
"We work under a lot of pressure — and at times it's not much fun getting in between people and their coffee," admitted Terry. "They can get very upset!"
There are some lighter moments too. About once a year, Terry and Graeme get an emergency call-out to a machine that's not heating. After trouble-shooting over the phone without success, they jump into the car and head out to help – often in peak hour traffic. Once at the café, there's a little pause before Terry says "Right, is there anything else you need us to look at while we're here?" Having just flicked on the heating switch.
Switches can sometimes get mistakenly pushed off during the cleaning process, explained Terry. "You've got to smile on these occasions. It could happen to any one of us.
Terry's tips
The most common emergency call-outs is caused by coffee being spilt inside the machine. "This happens most often during peak periods when everyone is extremely busy," said Terry. "The barista puts a coffee on the heating plate on top of the machine and it ends up being spilt into the workings. This blows the circuit boards — and it's not a quick fix."
So, if there's one message that Terry would like to get out to every barista, it would be: Only store empty cups on top of your machine.
Terry loves the innovation and high-quality engineering found in the Rancilio machines that make up the majority of the Altura stable. And it's the small things that count: For example, rubber 'o' rings cause a common problem for coffee machines when they dry out and need replacing. Rancilio have solved this issue by replacing the traditionally rubber parts with Teflon. This means that they can handle a lot more wear — and last around four times longer.
As the only New Zealand distributor of Rancilio machines, the Altura technical team gets a briefing directly from the experts when a new machine hits the market. "They fly someone over from Italy so that we can get all the detail we need. The training is superb."
Terry and Graeme spend about five hours a week working on domestic machines. If you have a coffee machine at home that's playing up, you can drop it in to Altura Coffee in Albany on Auckland's North Shore and the team will take a look at it for you. The Altura technicians deal with a lot of Rancilio Silvia machines for home use.
The most common problem is caused by the steam tap developing a leak and getting stiff. If that happens, Terry's advice is to stop using the machine. "If you keep using it, the tap will wear out and the whole unit will need to be replaced instead of a quick bit of maintenance. It's always better to get on top of things early."