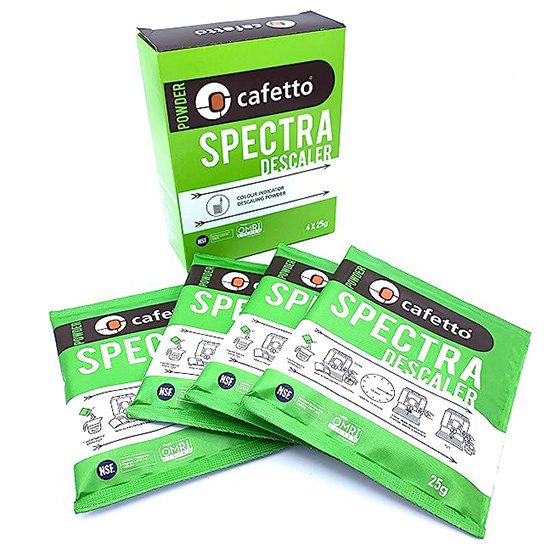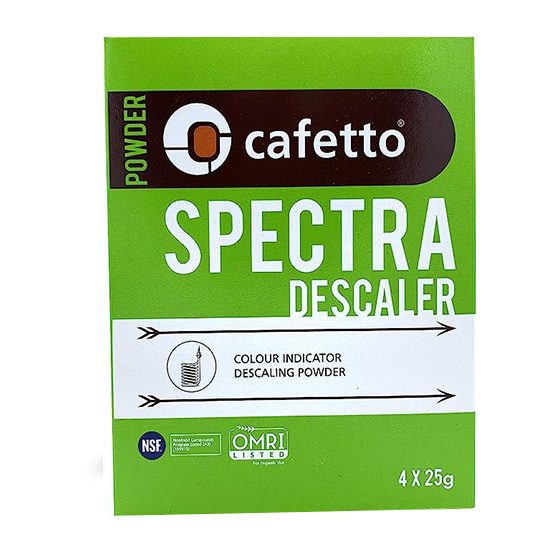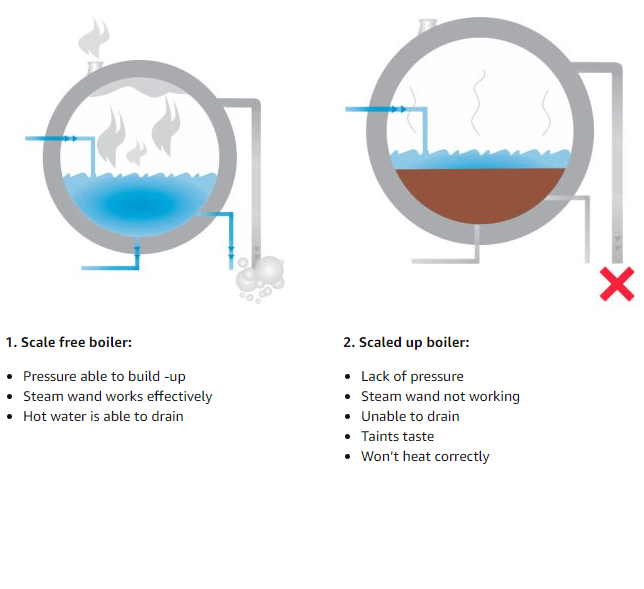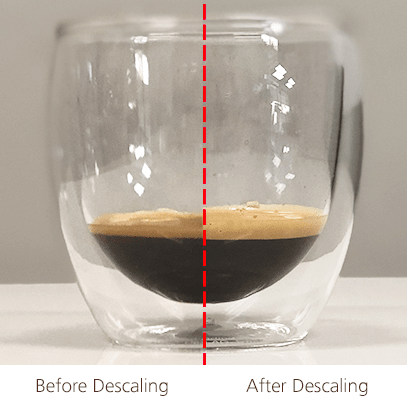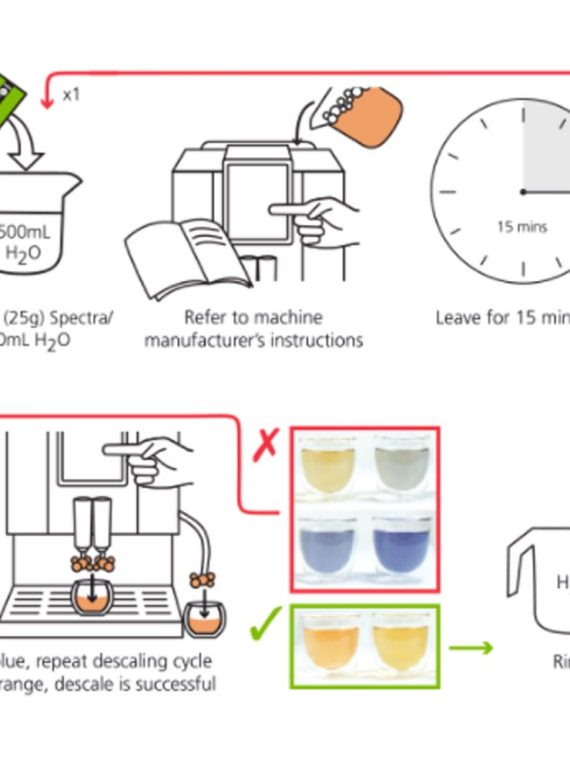 Cafetto Spectra Descaler Eco-friendly 4 x 25g Sachet Pack
An eco-friendly powder descaler which visually indicates whether a descaling cycle has been successful using pH-sensitive dye compounds.
RESTORE COFFEE EQUIPMENT POWDER DESCALE
UNIQUE BLEND OF ORGANIC ACIDS
Contains a synergistic blend of organic acids that give outstanding scale removal.
CERTIFIED FOR ORGANIC USE
Restore is registered by Australian Certified Organic (ACO) as an allowed input in organic systems and is certified by the Organic Materials Review Institute (OMRI). Restore is free from phosphate and Genetically Modified Organisms.
SAFE FOR YOU AND YOUR MACHINE
Safe for all machine parts, Restore is listed with NSF. It has been tested, evaluated and passed the most stringent toxicology and corrosivity standards
The ingredients and formulation of the products that are NSF certified are safe, leave no harmful residues and do not cause corrosion within the coffee machine. Safe to use on aluminum, brass and stainless steel
RAPIDLY BIO-EGRADABLE
All ingredients are all rapidly bio-degradable meeting international standards.
CAN BE USED ON A WIDE RANGE OF EQUIPMENT
Designed for espresso machine water tank, boilers and coffee brewers, Restore can also be used in kettles
Description
An eco-friendly powder descaler which visually indicates whether a descaling cycle has been successful using pH-sensitive dye compounds. Orange indicates an effective descaling cycle, and blue indicates that another descaling cycle is required.
Rapidly and easily removes lime scale and calcium build up from espresso machine water tanks, boilers and coffee brewers.
Certified for organic use. Detergents in Spectra are readily biodegradable.
Free from phosphate and Genetically Modified Organisms.
THE IMPORTANCE OF DESCALING
WHAT IS SCALE ?
Scale can also be known as lime scale, calcium, or lime. It occurs when a build-up of mineral deposits in water form a noticeable white crust on the eating element.
In many areas, water quality is a significant problem affecting the efficient operation of an espresso machine. Given that water constitutes 98% of an espresso it is not surprising that the water quality issue must be addressed. Water quality relates to three factors – particulate matter like sediment, chemicals such as chlorine, and naturally occurring elements.
All these factors may vary throughout the year, season to season, and as authorities source water from different areas, making it essential to provide treatment to address each factor. Let's look at each factor, the problem and the treatment.
PARTICULATE MATTERS LIKE SEDIMENT
These are very small particles suspended in the water, often giving water a cloudy appearance. Without treatment these particles block the very fine jets and shower screen holes, affecting machine performance and altering the coffee taste.
A filter of 5 micron or less on the water line to the machine will remove the particulate matter, however the filter must be changed regularly.
CHEMICALS SUCH AS CHLORINE
Chemicals in water can naturally occur or may be treatment chemicals, like chlorine. They affect the taste, appearance and odour of water and this will be transferred to the coffee. Filtration treatment can be highly effective in safely removing these chemicals provided it is the correct filter and is regularly replaced.
NATURALLY OCCURRING ELEMENTS THAT CAUSE HARD WATER SCALE
Many areas have high levels of calcium carbonate and magnesium carbonate in the water which becomes a scale "crust" on surfaces when water is heated. As calcium and magnesium carbonate are soluble and do not affect the colour or appearance of water, they cannot be removed by filtration.
Scale occurs on the boiler, the heating element, and the pipe and jet network in an espresso machine, and affects machine performance eventually machine failure if not treated.
WHY DESCALE?
Scale build-up causes equipment downtime leading to increased machine service frequency, more part replacements and a shortened machine lifespan. Scale build up also reduces the quality of espresso flavour. Once scale has formed in the boiler and pipe network, it can only be removed by the use of specific acidic descaling chemicals.

Cafetto Spectra Descaler Eco-friendly 4 x 25g Sachet Pack
There are no question yet.