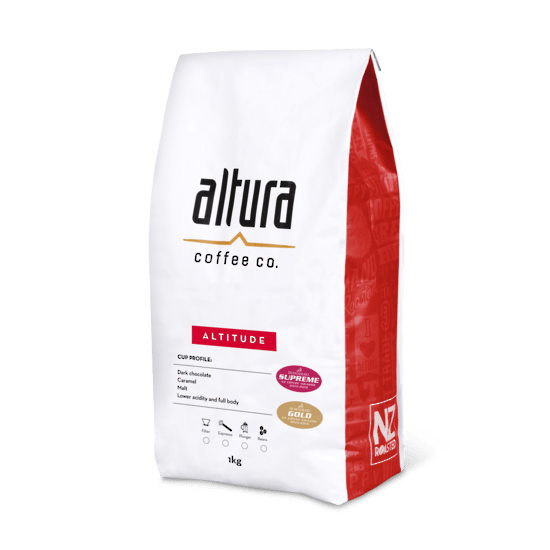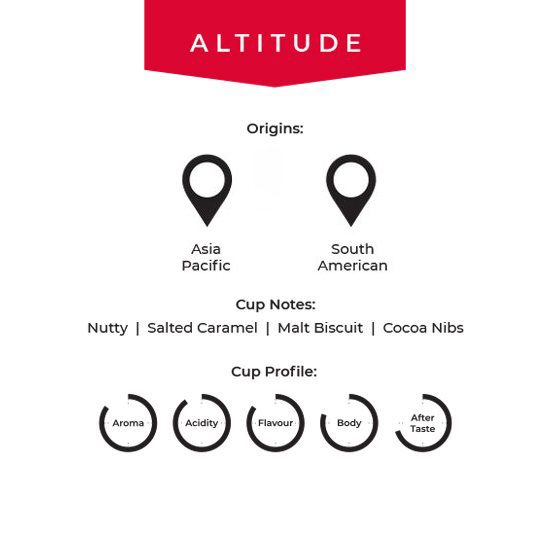 Altitude
Altitude is our award winning blend, it speaks for itself. Tasting notes of Dark Chocolate, Caramel and Malt. It is low in acidity and full bodied.
Sourcing the best green beans, roasting to perfection and blending to produce the highest standard of coffee is our goal, we do this so we can supply unique quality coffee to our customers and ensure every cup delivers perfection.
Description
Altura Coffee Company is proud to have won the Supreme Award at the Huhtamaki 2015-16 New Zealand Coffee Awards.
Since the inception of the New Zealand Coffee awards Altura Coffee is the only NZ Roaster to have won this for a second time.
A panel of eight judges were responsible for sampling the brews by blind tastings, Altura's new blend Altitude was a clear winner with the highest individual score in the eight categories of the awards.
The coffee awards are a platform which gives every Roaster in NZ an opportunity to showcase their coffee blends and origins which we all craft with special care.
We were especially pleased to use this platform to enter our new blend called "Altitude" which directly derives from the strapline "Coffee with Altitude" that underpins the Altura name.
Along with the Supreme award our Altitude blend also received the Gold medal in the "Flat White" category, this is extremely special as this is NZ's favourite coffee beverage.
Additional information
| | |
| --- | --- |
| Weight | 1 kg |
| Size | 1kg, 250g |
| Style | Whole Bean, Plunger Ground, Espresso Ground, Filter Ground, Aeropress, Stovetop |

There are no question yet.